Latest University of Hyderabad Recruitment 2019 notification, University of Hyderabad invites application for 13 Research Associate, Guest Faculty, Research Assistant, JRF, Project Associate, Project Assistant, SRF vacancies apply online at www.uohyd.ac.in official website for University of Hyderabad free job alert. All details like Qualification, Age limit, Job location, how to apply and other eligibility criteria are given below.
Latest University of Hyderabad vacancy list
Last Modified:
---
---
---
---
---
---
---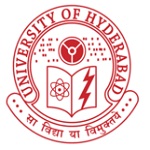 University of Hyderabad Recruitment 2019 - Expired Posts
Notification Link
Required Qualification
Last Date
Guest Faculty
2 Vacancies
Master Degree
14-06-2019
JRF
1 vacancy
M.Sc
22-05-2019
Research Associate
1 vacancy
Ph.D
06-06-2019
Adhoc Faculty
2 Vacancies
MA, M.Sc
30-05-2019
Project Assistant
1 vacancy
M.Sc
20-04-2019
Guest Faculty
3 Vacancies
M.Sc
22-04-2019
Senior Scientist
1 vacancy
M.Sc, Ph.D
20-04-2019
Consultant
2 Vacancies
As Per University of Hyderabad Norms
08-04-2019
JRF
1 vacancy
M.Sc, M.Tech
01-04-2019
Project Assistant
2 Vacancies
M.Sc
15-03-2019
Junior Research fellow
1 vacancy
M.Sc
26-02-2019
Senior Scientist, Research Scientist
14 Vacancies
Ph.D, B.Sc, M.Sc
20-02-2019
Research Associate
1 vacancy
Ph.D, M.Sc
15-02-2019
Guest Faculty
1 vacancy
Ph.D
16-01-2019
Research Scientist, Junior Research Fellow
5 Vacancies
Ph.D, M.Tech, M.Sc, Post Graduate
20-01-2019
Technical Assistant, Junior Research Fellow
2 Vacancies
Master Degree
17-01-2019
Project Assistant
1 vacancy
B.Sc
23-01-2019
Guest Faculty
1 vacancy
Master Degree
15-01-2019
Consultant
1 vacancy
Graduate
01-11-2018
Junior Research Fellow
1 vacancy
M.Sc
10-10-2018
Why GovNokri for University of Hyderabad recruitment notification
GovNokri is providing all information of latest government job vacancies for University of Hyderabad recruitment notification from 2013. Our website www.govnokri.com is helping job seeker for searching University of Hyderabad posts by qualification and candidates can also sort it by state wise govt jobs. Here on GovNokri, we are providing all required details to apply online application like post name, number of total vacancy in University of Hyderabad, application fee, how to apply and all other eligibility criteria. Not only jobs recruitment updates we are also providing other information like University of Hyderabad results, admit cards, answer key, examination syllabus and Current affairs for our readers.
How to check University of Hyderabad vacancy on www.uohyd.ac.in
Job seeker Searching for Latest University of Hyderabad job vacancies can also check all recent and upcoming recruitment notice on official website www.uohyd.ac.in. If you are applying online application for University of Hyderabad examination, then please cross verify the requirements using the official notification released by organization. Many candidates will apply without checking the details on www.uohyd.ac.in and later find that eligiblity criteria is not matching. So before you go ahead and apply for any particular vacancy kindly check the requirements if its matching with your profile or not. To check new vacancies go to www.uohyd.ac.in after that go to recruitment section there you will find all University of Hyderabad vacancies list.
Eligiblity criteria for University of Hyderabad recruitment 2019-20
As we mentioned above that before applying online application applicants should check the eligiblity criteria of University of Hyderabad. Interested candidates who wanted to join University of Hyderabad should check the below things before applying online for any Post.
Educational qualification for University of Hyderabad posts
Age limit
Experience requirements
University of Hyderabad selection process
Reservation
University of Hyderabad application mode
How to apply online application for University of Hyderabad recruitment 2019
After checking the eligiblity criteria any aspirants who wanted to apply for any post can go ahead and apply by using online or offline mode. In most of the cases you need to fill application form via online mode only. Encase any applicant doesn'y know how to apply online application form on www.uohyd.ac.in can check the below steps, where we have explained the steps in details for our subscribers.
Steps to apply for University of Hyderabad Vacancies 2019-20
Click on the University of Hyderabad notification's online apply link which we have provided on this Page or go to the official website for the e.g www.uohyd.ac.in.
Refer the Advertisement details on career/ recruitment page and make sure your profile is matching all the requirements.
Click on the online application filling link.
Fill the Application Form with all the required details like Your Name, Date of Birth, Residential/ Mailing Address, Phone Number, educational qualification details, etc.
Upload/ Attach all required documents like Marks List, Age, Address Proof, experience letter, etc.
Once you finish that you need to Pay the Application Fee if it is required.
Finally, Submit the Application form by using the submit button.
Take the Print out of Application Form for Future reference.